Sunday 9th October 2022
This event replaces our 2022 marathon, half marathon & 10 km events which have been cancelled due to course access issues.
Run/walk 1, 3, or 5 laps of a 4 km course
alongside the picturesque Waipoua River
(and across the new Waipoua walking/cycling bridge)
Enter online https://events.onetime.sport/event/1159
or email your details to countrymarathon@gmail.com
By mid-day Saturday 8th Oct- entries on the day with $ late fee

Easy terrain (no hills) on limestone trails & some grass.

Suitable for all ages and abilities
(although buggies/strollers may be a challenge)
So come and join us and have a great day out

Contact Details
Email: countrymarathon@gmail.com
Phone: Richard Hawkes – 021 964994
Carol MacDonald – 027 2893404
Website: www.acm.kiwi.nz
Facebook: ACM Runners & Walkers
Refunds, late or change of entry
​​​Refunds (less $5) for withdrawals received in writing by 5pm Friday 7th October.
Late entries accepted up to 30 minutes prior to yor race start with a $5.00 fee.
Change distance or transfer entry to another athlete up to 30 minutes prior to your race start
Increased distance costs the difference in entry fees. No refunds for reducing distance.
Registration & timing
Collect race numbers from Race HQ, ACM Club Rooms, Blair Street from 8am Sunday.
Times will be recorded until aproximately 11:30am.

Start Times
5 laps (20km) 9.00 am
3 laps (12km) 9:30 am
1 lap (4km) 10:00 am
Early starts:
Even though we will still be timing finishers, we would love to have you all back in time for prizegiving (11am) so if you expect to take over 2 hours for 5 lapsOR over 90 minutes for 3 laps, please contact Richard or Carol to arrange an early start.
Participant facilities
Changing, showers, toilets and drink stations at Race HQ.
Parking at Race HQ & Queen Elizabeth Park
Prize giving: 11:00am
We will recognise the first males and females in each event and all finishers go in the draw for spot prizes.
You must be present to claim prizes.

Course description:
Start with a clockwise lap of the track, out the gate, left and around the back of the deer park and up on to the stop bank.
Right at Colombo bridge, follow footpath, right and down to the riverside lime trail.
Follow the trail up-river until the new Waipoua foot/cycle bridge.
Cross, turn right and back along the trail until you reach the Swing Bridge
Turn left, then left again, through the gate and on to the track to complete the lap.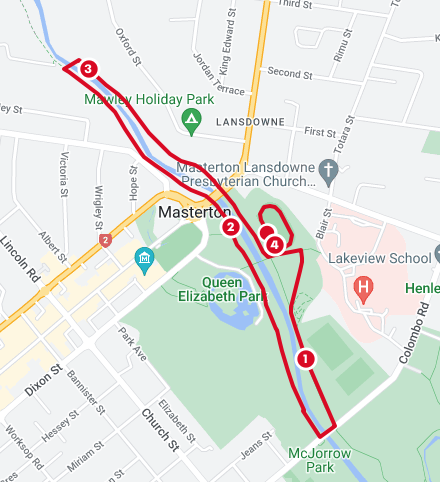 Phone: Richard Hawkes – 021 964994
Carol MacDonald – 027 2893404
Previous results can be viewed here